Meet the Ultimate Trail Backpack
- Super comfortable
- Bounce-free
- Removable protection
- Recycled nylon
#trashfreetrail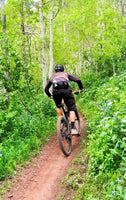 About Us
Lab Austere is proudly a 1-rider brand based in Cottonwood Heights, Utah.
My life is dedicated to action sports. As a mid-40's rider and family man, who still gets out 5 days a week, my career is dedicated to getting the best gear to enthusiasts.
20 years racing mountain bikes. 25 years working in the ski industry. 10 years managing bike shops. 8 years writing technical gear reviews.
Now bringings a simple brand with clear goals: to make simple solutions so that your gear feels invisible while in use. 
Meet the Tool Roll
The Trunk Tool Roll ensures you always have the tools you need in an easy, organized fashion, and rattle free fashion.

In the truck, under a seat, or with your spare. The Trunk Tool Roll ensure what you need is always there for you.